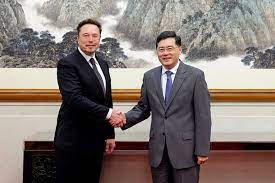 Chinese State Councillor and Foreign Minister Qin Gang met with Tesla CEO Elon Musk in Beijing, China, on May 30, 2023. China's Ministry of Foreign Affairs/Handout via REUTERS.
LIATHARGA.MY.ID – It is known that Tesla's CEO, Elon Musk, undertook a high-risk visit to China on Tuesday, May 30, 2023, to hold a meeting with the country's foreign minister in Beijing. This marked his return to the largest production center of the electric car manufacturer after three years.
This trip signifies the return of US CEOs to China since the country reopened its borders and reversed its zero-COVID policy in December. Apple's Tim Cook visited in March, while Jamie Dimon from JP Morgan and Laxman Narasimhan from Starbucks were also in China this week.
Elon Musk met with China's foreign minister, Qin Gang, a few hours after landing in Beijing.
Qin informed Musk that China is committed to improving the business environment for investors, including Tesla, and used a complex driving metaphor to describe the China-US relationship, according to a statement from his ministry.
"We must step on the brakes in a timely manner, avoid dangerous driving, and skillfully use the accelerator to promote mutually beneficial cooperation," Qin said.
Also Read : "Is it true that Babymonster will make their debut in the third quarter of this year?"
The Ministry of Foreign Affairs quoted Musk as saying that he is willing to expand business in China and opposes the economic decoupling of the US and China, adding that he described the two largest economies in the world as "conjoined twins."
Tesla did not respond to requests for comments regarding Musk's trip, his travel plans, or his meeting with Qin. China is Tesla's second-largest market after the United States.
Musk, who is also the owner of Twitter, remained silent on the platform after arriving in China, where Twitter is banned but can be accessed by some users through a virtual private network. He also did not post on his official Weibo account.
Elon Musk is expected to meet with other senior Chinese officials and visit the Tesla factory in Shanghai during his trip, Reuters reported on Monday, although it is unclear who exactly he will meet or what issues they will discuss.
Also Read : A beautiful woman from the Amerika Serikat was cheated on after willingly donating her genitals to her lover."
A source familiar with the matter said on Tuesday that a meeting with Zeng Yuqun, the chairman of CATL, a Chinese battery giant and a major supplier to Tesla, is also planned in Beijing. CATL did not respond to requests for comments.
Reuters reported that in March, Musk had planned a trip to China and sought a meeting with Chinese Premier Li Qiang.
During his 2019 trip to China, Musk met with then-Premier Li Keqiang. A year later, he made waves on Chinese social media by dancing on stage to celebrate the opening of the Tesla factory in Shanghai.